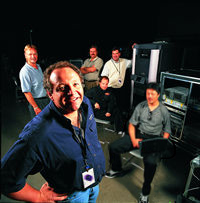 Clockwise from foreground: Robin Taylor; Burt West, J Burton West; John Fassett, Mirage Digital; Brian Congrove, Williams/Gerard Productions; Ted Fowler, Ed & Ted's Excellent Lighting; Yoshi Kumagai, Mirage Digital.

Virtual World Traveler
The SHRM president began the conference with a speech about the future direction of the society and the profession. To the attendees watching the stage, he appeared to be a sole figure on a large green wasteland. But on the two 16-by-20-foot main screens, as well as on the eight delay screens flanking the audience, the executive appeared to be standing in front of a 20-foot-tall "star gate." The CGI animation made the center set piece disappear, putting in its place a whirling, humming structure crackling with energy bolts. On cue, the executive stepped across a painted mark on the stage. On-screen, he was suddenly transported to Greece, then Africa, then Times Square and, finally, the moon.

There is a one-frame lag between the video I-mag and the CGI digital image of the person, says Robin Taylor, owner of VideoMon, which specializes in doing road-shows for rock bands. The frame is buffered so that the audience does not see the difference between the live and the virtual images. A bit trickier is the need to keep the live sound in sync with the digital display. Sound-delay circuitry was used to keep everything in sync, he explains.

In one of the most effective moments of the SHRM conference, an engraved crystal bowl rose on a virtual pedestal from the floor of the stage. As names were called for the awards ceremony, the display screens showed the recipients walking behind the bowl. In real time, the computers interpolated the live characters and the crystal bowl so that the image of the recipients could be seen directly through the glass with realistic distortion.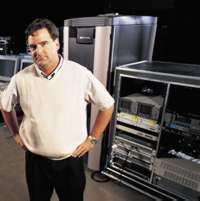 Brian Congrove, executiove producer, Williams/Gerard Productions, supervised the event, which the client called flawless

To add a bit of humor and theatricality to the awards segment, Taylor's 16-year-old son was dressed in a completely digital green suit, including hood. When it came time for a plaque or other award to be delivered, he carried it onto the stage. While the audience could easily see the green-suited teenager on the stage, on-screen he was invisible, and the award appeared to be floating magically toward its intended target.

"I was really pleased with what we accomplished," says Block. "It worked because it was produced flawlessly. It looked seamless. People were impressed." If anything, Block feels in retrospect that she and the producers might have under-utilized the VR capabilities. "The hardest challenge was to understand what it could and couldn't do. Maybe we held back a bit too much."

Next time SHRM goes virtual, she says, they will let their imaginations take them wherever they want to go.


Robert L. Lindstrom, former executive editor of AVVMMP, is the executive director of The Digital Exploration Society (http://www.digitalexplorers.com/).

Photographs by Michael Sexton


---
TOOLBOX
These were among the products used to produce the SHRM conference.
For more information, click on InfoLink and enter the appropriate number

Arri 1K and 2K Fresnels

Enter

InfoLink

number 172

Radamec Tracking Heads

Enter

InfoLink

number 180

Canon 55:1 lenses

Enter

InfoLink

number 173

SGI Octane and O2 offline graphics engines and Onyx 2 IR2 supercomputers

Enter

InfoLink

number 181

Christie Digital 8K and 10K Roadie projectors (2) and Christie Digital Roadster projectors (8)

Enter

InfoLink

number 174

Sierra Digital Link – A2D/D2A, 16X16 router and 32X32 Digital Router

Enter

InfoLink

number 182

Crest 52-Channel Console

Enter

InfoLink

number 175

Sony D-30 triax cameras

Enter

InfoLink

number 183

EAW Loudspeakers

Enter

InfoLink

number 176

Ultimatte 8 Digital Keyer

Enter

InfoLink

number 184

Ensemble Designs Delay/Buffer

Enter

InfoLink

number 177

Leitch Distribution and Mirage Digital 3D Scenery Library and Corporate 3D EFX

Enter

InfoLink

number 178

Video West EFX Racks w/EQs

Enter

InfoLink

number 186

Mirage Digital Portable Compositing Soft Goods and Flooring and Digital Virtual Flypack

Enter

InfoLink

number 179

Wholehog II controller

Enter

InfoLink

number 187
---
(Return to part 2)
(Return to Table of Contents)